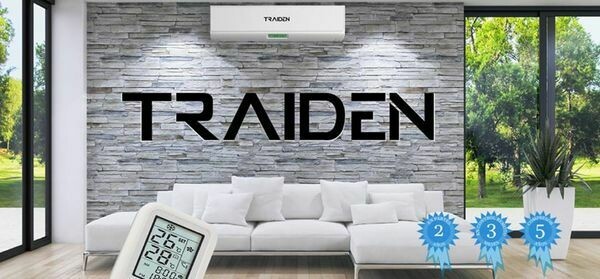 Traiden Air 12000K BTU 220 Volt Mini Split System with Remote 13 SEER NONWIFI
SKU 15865
Product Details
When Ordering Please Contact Us for Exact Shipping Rate to your Zip Code Before Ordering. This Item Ships in two separate boxes via UPS Ground 3-4 Business Day Delivery or FedEx Ground.

NOTE: At the present time the Remotes for these systems only Display the Temperature in Celsius. Please refer to The Description Below for Details.
Model # ASW-H12U2/JFR1DI-US
ITEM SPECIFICATIONS:
Top Line Features:
• Top Notch HVAC Brand: AUX GROUP
• Pre-Charged w/ Eco-friendly R410 Refrigerant
• 1 TON ductless split can cool or heat a room up to 600 square feet!
• Advanced Technology, this system features energy efficient operation.
• Includes complete installation Kit.
Aux Mini Split
12000 BTU Mini Split / 1 Ton
Air Conditioner & Heat Pump
AUX ASW-12000BTU-US Heat Pump Air Conditioner
**Please note that sometimes our manuals get mixed from English to Spanish or vice versa when Spanish speaking customers purchase from us as we also sell to Mexico. If for any reason you receive a unit with incorrect language, please contact us and we will email desired language. We apologize in advance for any inconvenience this may cause if this does occur to you.**
 Due to a manufacturers process on the Remote Controls, the newer models will only display temperatures in Celcius. We are in the process of providing conversion charts for our customers who need them OR....a simple way is add the C numbers twice and add 30 which will give you the temp in fahrenheit.
SYSTEM INCLUDES
• Indoor Unit - Air Handler.
• Outdoor Unit - Compressor.
• Digital LCD Remote Control with Follow Me.
• Installation Kit with line set and wire.
• Product and Installation Manual.
FEATURES
· Elegant, Modern Design
· Remote Control ( New model remotes only display Temp in Celsius )
· Sleep Function for energy savings
· Automatic Air Swing (up and down)
· Three speed & auto-speed blower
· Washable Filters
· Energy savings of up to 20% compared to conventional mini-splits
• Anti-Fungus Bacterial Filter as Bonus
• I-Feel / Follow Me Technology Tracks Remote Location
• Cross Flow Technology reduces noise output
• Complete Install Kit: Line set, Indoor Wire, Outdoor Wire
• Easy Maintenance - Panel Removes for Access
• Two-direction Air vane Evenly Distributes Air
• 220V
FREE INSTALLATION KIT
• 11 Ft Flared Copper Tubing
• 11 Ft Pipe Insulation
• 8 Ft Electrical Wire - OUTDOOR>BOX
• Drain Pipe (indoor)
• Wall Bracket for Indoor Unit
• Plastic Pipe Wrap
• Installation and User Manual
• Neoprene Putty to Seal Holes
WARRANTY
*8 Year Compressor - 2 Year on all other Parts* Registration card will be sent with unit, this card should be completed by an HVAC technician (installer). Installation of a mini split must be completed by a licensed HVAC (Heating, ventilating, & air conditioning) company to ensure any issues encountered in the future are not due to improper installation /workmanship. Even though mini split setup is below the expertise requirements of central AC systems, these are not "plug-n-play" units that can be properly installed without certain tools or any prior HVAC - electrical knowledge. The installation includes electrical, gas, and refrigerant connections and generally regulated by a multiple sets of laws, codes and guidelines, at the federal, state and local levels. The failure to properly install HVAC equipment can raise personal safety and performance concerns. Warranty service - troubleshooting is provided through the contractor / installer and will be upheld as long as policies are observed. Once a non-defective unit is installed by a HVAC company, chances of anything going wrong are very slim and almost all contractors will guarantee their workmanship and provide future service free of charge (installation warranty). If it was determined that the unit is not functioning due to a defect and needs to be replaced, the part will be sent free of charge up to 1 year from date of purchase or 5 years for the compressor. If you receive a damaged or defective product, a replacement unit will be sent out Free of cost. For Damaged / Defective product we will send you return shipping labels and once we receive the damaged unit a brand new exchange will be shipped out.
Before any Warranty Claims and returns/exchanges are made the Distributor has the right to make every reasonable effort to Troubleshoot the cause which may include providing Technical Advice. With these units the Outdoor Unit is powered by the Indoor Unit. NO POWER should be wired directly to the Outside Unit. As with any Warranty Claim the Customer must provide Receipts from a licensed HVAC Installer and Licensed Electrician, on their Official Letterhead or Receipt indicating the Complete Name of the Business, Address, Telephone Number and Current State Business License Number. Receipts must clearly state the Diagnosis Efforts. The Customer is also responsible for submitting any requested Photographs which shall include locations, electrical, and HVAC Connections. Self Installs of HVAC or Electrical Startups by the Customer Void any Warranty Claims.
If any Part is deemed by the Distributor as defective, a replacement part will shipped to the Customer. Condensors will not be replaced unless their exists verifiable damage to the unit during transit or installation or in such cases as a manufacturers obvious defect.
REFUNDS ON DEFECTIVE PRODUCTS: Refunds will be issued once the Unit is determined to be a Manufacturers Defect for Replacement Purposes. Customers will be issued a Refund for the Purchase Amount of the Unit Only. Shipping Charges are Non Refundable.

RETURNS POLICY:

Returns are accepted within 14 Days of Purchase and Receipt if the Unit is still in the UNOPENED Shipping Boxes, otherwise ALL SALES ARE FINAL.
SHIPPING:

*Please note that product will be shipped in two individual packages. Item ships via FedEx Home/ Ground Delivery. (Only ships to the lower 48 Contiguous United States) Can ship to Hawaii, Puerto Rico and Alaska, but buyer must pay shipping difference. Please contact us for exact rate. Also due to manufacturer constantly trying to better the products, item may have a small variation in appearance. Also please keep in mind although both packages are shipped out at the same time carrier may separate packages causing boxes to be delivered at different times/days. We do not require signature confirmation for deliveries. All Items are Shipped from our vendor warehouse in Brownsville, Texas.
-This air conditioner with heating pump unit is warranted by AEI Trading (our vendor) to be free from defects in materials and workmanship under normal use and maintenance as described below:
◦ All Warranty begins on the date of installation. If date of installation cannot be verified, then warranty begins the date of purchase.
◦ All Warranties applies to:
◦ To the original registered owner and his or her spouse ("owner").
◦ The COMPRESSOR is warranted for a period of EIGHT (8) YEARS*.
◦ All remaining parts are warranted for a period of TWO (2) YEARS.
This warranty applies only if:
1. The product is installed in an owner-occupied, single family residence.
2. The product remains in the original installation location.
3. The product is installed by contractors who are licensed HVAC professionals and in compliance with all local and state laws.
4. The product is installed, maintained and used in accordance with the manufacturer's recommendations as outlined in the Installation and Use & Care manuals.
-If a product is installed in a newly constructed home, the installation date is assumed to be the date of purchase.
-THIS WARRANTY DOES NOT INCLUDE LABOR or other cost incurred for servicing, repairing, removing, installing, shipping, or handling of either defective or replacement parts, or complete unit.
LIMITATION OF WARRANTIES : ALL IMPLIED WARRANTIES INCLUDING BUT NOT LIMITED TO WARRANTIES OF MERCHANT ABILITY AND FITNESS FOR A PARTICULAR USE OR PURPOSE, ARE LIMITED TO THE DURATION OF THIS LIMITED WARRANTY.
Some states do not allow limitations on how long an implied warranty lasts, so the above limitation may not apply to you. The express warranties made in the limited warranty document are exclusive and may not be altered by any dealer, distributor or other persons whatsoever.
FOR ANY INCIDENTAL OR CONSEQUENTIAL PROPERTY DAMAGE, AEI TRADING, SHALL NOT BE HELD LIABLE.
For residents of states do not allow the exclusion or limitation of incidental or consequential damages, the above exclusion may not apply to you.

-This warranty does not cover:
1. Damage or failure as a result of abuse, winds, floods, fires, accidents lightning, accidents, corrosive atmosphere or other conditions beyond the control of AEI TRADING Or Homesteadinghowto.com.
2. Use of components or accessories that are not compatible with this unit.
3. Damage or repairs resulting from faulty installation, application, maintenance, abuse or unauthorized alteration of the product.
4. Failures to start due to interruption and/or inadequate electrical service, blown fuses, or open circuit breakers.
5. Parts not supplied by the Vendor or damage resulting from the use of parts not supplied or designated by the Vendor.
6. Damage caused by frozen or broken water pipes in the event of equipment failure.
7. Changes in the appearance of the units that do or do not affect its performance.
8. The cost of labor, shipping, or material charges or damages that may result from transportation, installation, or servicing.
9. Any cost related to the replacement, refilling or disposal of the refrigerant.
10. Increase in fuel or electric cost.
This warranty gives you specific legal rights, you may also have other right which vary from state to state.
Save this product for later